We love to personalize our students' classes, and we understand you have your own schedule, that's why we are proud to be a very flexible program. But, Flexible how? Well, we accommodate with how many classes you want to take and how many days you want to come. And not only that, but we have group and private classes which you can also combine.
Need to learn specific vocabulary for a trip, job, or hobby? Let us know! We offer many vocabulary courses including medical, political, legal and educational focuses.
Most classes are 55 minutes long and can be taken in either a private or small group class. We offer discounts starting at 8 weeks of classes. And don't forget to ask about our special group or family prices!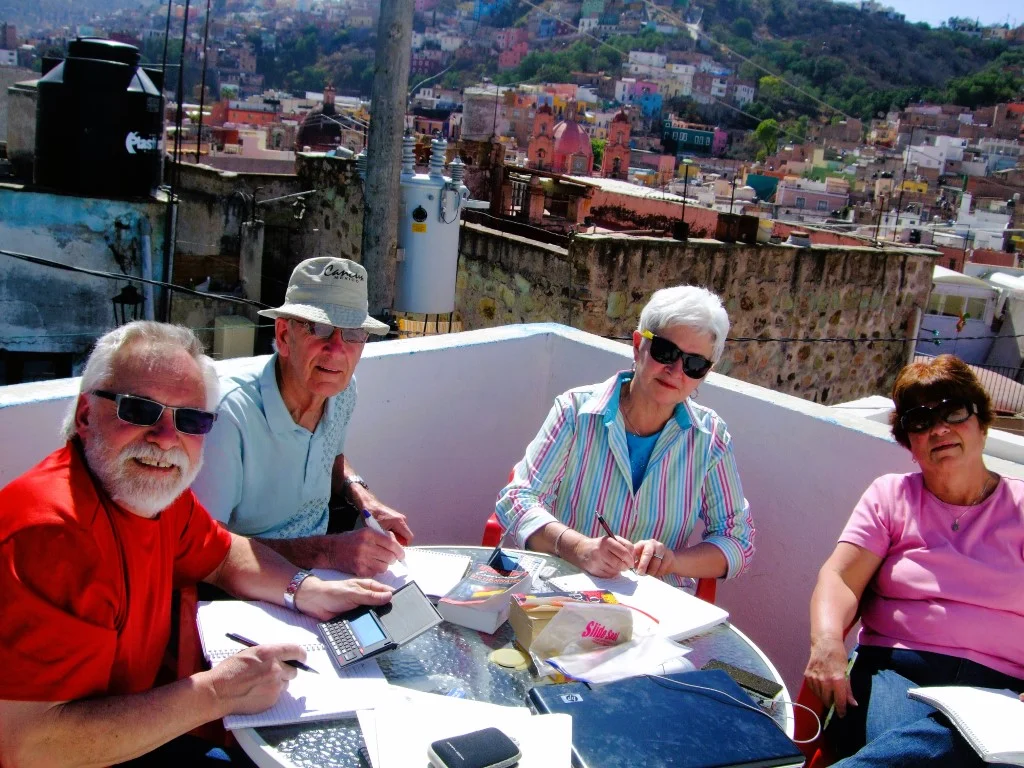 All group and private classes include:
We have different spanish classes according to level
Escuela Falcon Courses Spanish Pricing
Private spanish Classes per week
Group spanish Classes per week
We offer discounts starting at 8 weeks of classes. And don't forget to ask about our special group or family prices!
Please keep in mind there is a $37 U.S.D registration fee for new students
Our group classes are offered Monday through Friday and never contain more than five students. Learning Spanish in a small group means every student has the opportunity to speak and participate in class.
Additionally, the teacher is able to insure that every student understands the material and is progressing with the other students
Any group class can be taken privately. By opting for a private class, you get to decide what you would specifically like to learn in class and how quickly you would like to advance. For example, you may choose to do two days of grammar, two days of conversation, and one day of Mexican culture. We also offer a unique option for private classes which involve going out with your teacher around the city for a walk or to a place of your choosing.
Taking private classes also allows for more flexibility with scheduling. We can schedule private classes from 9 AM- 7 PM- everyday, or just a couple times per week. Essentially, you have the ability to design your own course.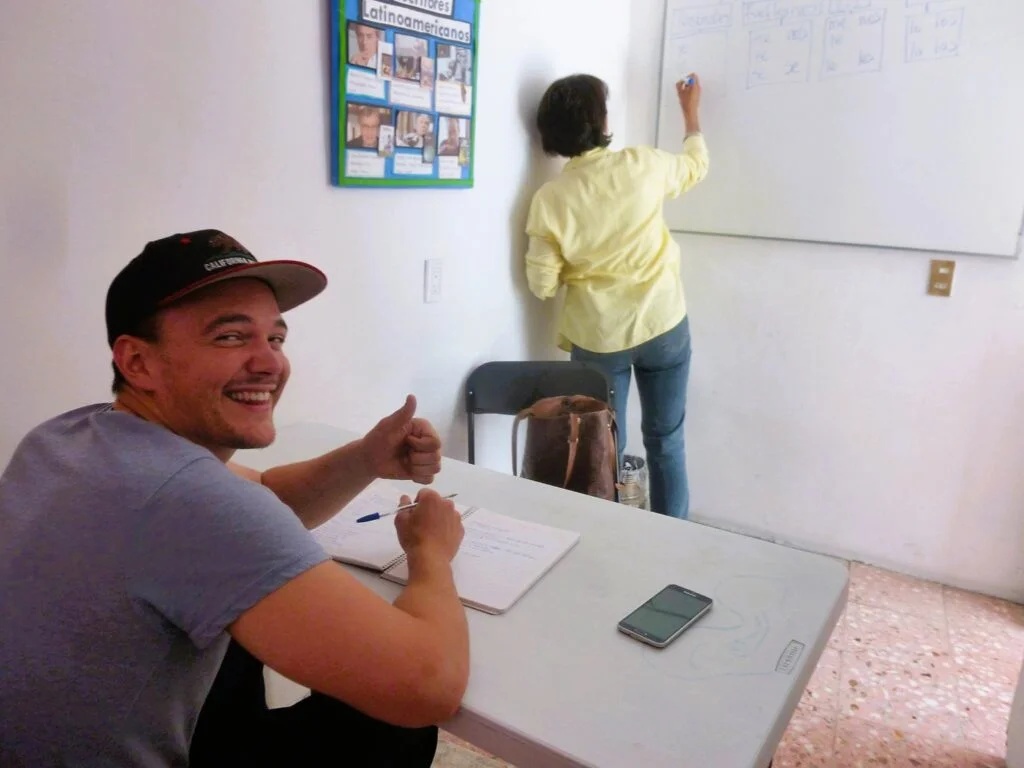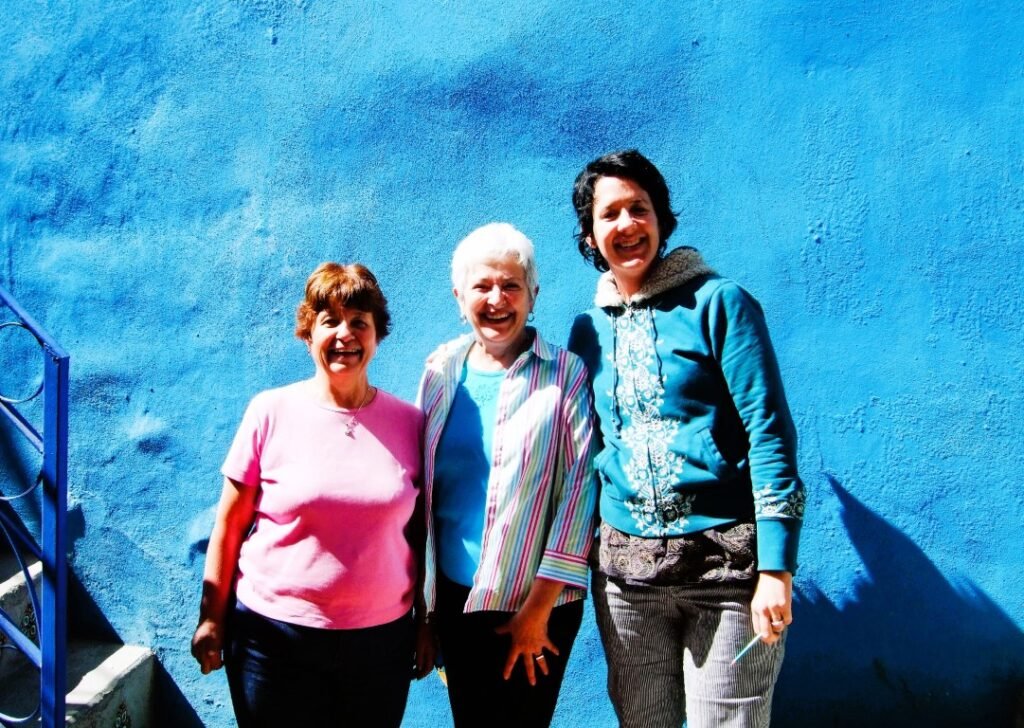 Escuela Falcon offers long term study packages for students starting at two months of study. Long term study programs are the best way to really immerse yourself in the culture and language of Mexico. You can choose from one to six hours of group or private classes per day. You can also supplement your class time with our daily afternoon activities and homestay accommodations with a local Mexican family. Please email us if you would like the pricing for long-term packages or if you would like some guidance about which package may be best for you!
Please don't hesitate to contact us if you have any questions, concerns, or doubts., we are happy to help!
ESCUELA DE IDIOMAS FALCON SPANISH SCHOOL
Callejón De Gallitos #6, Guanajuato,gto  Mexico, 36000
TEL:+52 47326531
Complete information about courses and levels
Basic Communication and Vocabulary (beginner)
This course provides beginner students with the opportunity to learn Survival Spanish in a comfortable environment. The basic phrases, expressions, and everyday vocabulary that tourists need are reviewed (such as phrases used in restaurants, the theatre, hotels, and while staying with a Mexican family, etc.).
Pronunciation and Diction
In this class students will be able to understand and differentiate actual vowels sounds and all of the numerous vowel and consonant combinations. After taking this course, students will be able to reproduce and learn new vocabulary with the correct pronunciation. This serves as a solid base for continued learning and increases the student's confidence to speak Spanish. This course is recommended for all levels.
Reading Comprehension (intermediate / advanced)
In this class students develop their ability to comprehend the main ideas in a reading without making direct translations. We use lots of exercises with the objective of improving comprehension. This course is recommended for intermediate and advanced students.
Conversation Workshop (intermediate / advanced)
This course helps the student develop his/her fluency and acquire oral communication strategies in Spanish along with new vocabulary. Current events and topics of general interest are discussed under the guidance of the instructor who also corrects the student and increases his/her confidence to communicate more effectively.
Listening Comprehension (intermediate)
This course helps the student familiarize him/herself with Spanish sounds through a series of exercises done under the guidance of the instructor. These exercises include different strategies and ways of identifying the sounds of letters, words, sentences and simple texts.
Composition and Writing Skills Workshop (advanced)
The purpose of this course is to improve the student's sentence structure and his/her ability to write short texts, letters, and essays. All of this is taught in accordance with spelling and punctuation rules. In order to improve the student's ability to express himself/herself, this class also focuses on the use of prefixes, suffixes, derivatives, synonyms, and antonyms. It is recommended for advanced students.
Grammar (all levels)
Our grammar program comprises a great variety of classes divided into three main levels: Beginner, Intermediate, and Advanced. In these classes students learn not only tenses (such as the present, past, and future) and their modes (indicative and subjunctive), but are also given complementary tools and exercises in order to better understand the complete structure of Spanish language and vocabulary. Students learn prepositions, adjectives, adverbs, and more. For advanced students we provide classes with an intensive focus on using and differentiating between the indicative and subjunctive modes.
Here is an outline of what is taught at different levels

Grammar Courses : Description

Beginners Spanish Grammar – Level 100-103

Present, present perfect, and present progressive tenses.
Practical structures of Spanish grammar (prepositional verbs).
The verb "to be".
Pronouns (direct and indirect object).
Reflexive verbs.

Intermediate Spanish – Level 201-203

Preterite, imperfect, future, conditional, pluperfect and conditional perfect tenses.
Imperative mode.
Prepositions and pronouns such as "por", "para" and "se".

Advanced Spanish – Level 301-303

How to use the subjunctive mode: present, imperfect, present perfect and pluperfect tenses.
Conjunctions.
Prepositions.
Pronouns.
Special uses of specific verbs.

Practical grammar workshops help the student to practice orally new grammar, which he/she is learning in a specific class and to combine this with other points of grammar the student already knows.
Hispanic Movie Workshop
We offer you the chance to take part in our cinema workshop, "Culture Through Images", where you can find out about interesting aspects of our culture. You will also take part in lively critical and analytical debates and write critiques and reviews of the films. In this way you will increase your vocabulary and at the same time learn about the latest trends in Hispanic cinema.
Indigenous Peoples of Mexico
Learn about some of the many ethnic groups that exist in Mexico. Study the different languages, customs and religions and how they are reflected in the numerous celebrations, folk dances and arts and crafts. Understand their current situation, along with the different problems they encounter. Recommended for advanced students with a good command of reading, writing and conversational Spanish.
Latin American Dance
Latin Rhythms: This class concentrates on contemporary Latin American dances such as Merengue, Salsa and Cumbia. Recommended for all ages and levels of Spanish.
Latin American Literature
The course takes a broad view of Mexican literary works and the Latin American Boom. Some of the writers include Julio Cortázar, Gabriel García Marquez, Mario Vargas Llosa, Juan Rulfo, Isabel Allende, Octavio Paz and Carlos Fuentes. Students read selected short stories, novels and poetry, and are encouraged to participate in class discussions. Occasional book reports will also be required. Recommended for advanced students with a good command of reading, writing and conversational Spanish.
Legal Vocabulary
If you are a lawyer who has a lot of contact with Latin American clients, this class has been specially created for you to learn and practice the technical language required in your field by using various dynamics such as role play. Also, if you're looking for an internship, we can help you contact a Mexican lawyer.
National and Local Legends and Tales
The entire country is rich in legends and Guanajuato's winding streets and small alleyways have also had their own legends going back over a century. In this course students find out about the various tragedies, adventures and romances from this colonial town's past, as well as other national legends. Students are encouraged to rewrite the endings of the legends with their own creative twist and visit local areas with a teacher where they can learn about the legends in context.  Recommended for advanced students with a good command of reading, writing and conversational Spanish.
Spanish Medical Terms
This course on medical terms provides a wonderful opportunity for foreign students to learn Spanish terminology used by medical professionals. These classes teach technical terms, words and phrases covering areas such as the anatomy, internal organs, the skeleton, ears, eyes and mouth, as well as illnesses, symptoms, descriptive terms, types of medication and dosages. The course allows students to use the Spanish medical terminology learned in a highly practical way, through dynamics such as role play. This practical element of the course is reinforced by opportunities for Mexican internships for medical personnel. Academia Falcon can help you contact a Mexican doctor if this is of interest.
Mexican Business : Culture and Economy
This course provides a unique opportunity for foreign students to master their Spanish language skills while learning more about Mexican business culture. The city of Guanajuato (the state capital) is an important government and tourist center. Additionally, the largest General Motors plant in Mexico is located only 20 minutes from Guanajuato. The cultural component focuses on providing the skills a foreigner needs to be culturally sensitive and successful when doing business in Mexico. For example, we cover the Mexican concept of time and how to do business with someone who is late. We study "gender roles" and the importance of women in business in modern day Mexico. We also discuss "Mexican Camaraderie", the role of socializing and basic courtesy in business. Recommended for advanced students with a good command of reading, writing and conversational Spanish.
Mexican Cookery Class
Immerse yourself in the tastes and aromas of real Mexican cuisine. Students get "hands-on" experience in creating Mexican dishes, taste their own creations and learn the origins of each recipe. A great way to learn how to make your favorite Mexican dishes. Recommended for all levels of Spanish.
Mexican Culture
The topics for this class include, but are not limited to, political ideologies, religion, education, family structure, art and music. Learn how they all come together to form the uniquely diverse culture for which this country is famous. Students will be assigned various topics for research and class discussion.
History of the Gay and Lesbian Movement in Mexico
Politics and Legislation
Health and Sports
Art, Cinema and Literature
Cultural Aspects: Family, Religion, Society and the Media
The above themes are covered from both traditional and modern perspectives.
Mexican History : Pre-Hispanic to Contemporary
This course is designed to give an overview of Mexican history. Topics include: the Pre-Hispanic Period, Conquest, Vice Regal Era, Independence, US-Mexico War, Juarez and the Reform Laws, Porforiato, Mexican Revolution, Post-Revolutionary Period and the contemporary era in its transition to democracy. The course is primarily taught through reading, discussions, videos and occasional visits to historical sites within the Guanajuato area. The topics are covered in chronological order and each topic takes 3 to 5 days, depending on the interest of the students. As with most Falcon courses, students have the flexibility to choose the topic they prefer, depending on teacher availability. Recommended for advanced students with a good command of reading, writing and conversational Spanish.
Mexican Music
Students study the different sentiments, thoughts and customs of the Mexican people through their music and learn why Mexicans laugh and cry in their songs. This course is a great insight into the culture and traditions of the country. Recommended for advanced students with a good command of reading, writing and conversational Spanish. (This class is only available during the summer).
Mexican Politics
This course traces the evolution of modern Mexican politics from the dictatorship of Porfirio Díaz, the Mexican Revolution, the rise of the PRI and its grip on political power up to the recent emergence of democracy. Students will explore the role and influence of the United States in Mexican politics (as reflected in the Revolution of 1910, the nationalization of oil in the 1930´s, and the formation of NAFTA in the 1990´s). The course also covers socio-economic problems in Mexico, such as corruption, unemployment and immigration. Students will be assigned research papers and are expected to participate in class discussions. Recommended for advanced students with a good command of reading, writing and conversational Spanish.
Muralism
This class offers a detailed analysis of the lives and works of some of Mexico's most famous muralists and painters. Students will study artists such as Diego Rivera, José Clemente Orozco, Alfaro Siqueiros, Rufino Tamayo and Jose Chávez Morado. We analyze these painters' most important and richest murals by focusing on technique, color, the use of murals as art on a social scale, political impact and the artists' attitudes towards Mexican society as it was in their time. Field trips will be arranged to local museums to study murals and works of art. Recommended for advanced students with a good command of reading, writing and conversational Spanish.
Pre-Hispanic Art
Students will study the ancient cultures that existed prior to the Spanish conquest (3000 BC to 1521 AD) and will analyze their works of art (sculpture, painting, wood and stone carving and handicrafts). Students will gain un understanding of the role that religion played in their art, architecture, politics and economy. Recommended for advanced students with a good command of reading, writing and conversational Spanish.